REGISTRATION PACKAGES AVAILABLE NOW!!!
If there are any issues with registration please contact:
All issues will be addressed as soon as possible
PAYMENT OPTIONS
Pay full Amount at Registration. Refund Policy is listed on Registration Page
Pay 50% at registration, 25% Nov 1, and 25% Jan 1. No Refund with this option
AWP and CWP fees are due at registration and are non-refundable
POOL TIMES AND LOCATION
PUPS: Terwillegar 2-3pm Saturday
U10: Terwillegar 5:00-6:00 Tues/Thurs and 11:30-12:30 Saturday
U12: Terwillegar 5:00-6:30 Tue/Thur and 10:00-11:30 Saturday (Kinsmen Sunday 12:00-1:00)
U14: Kinsmen 6:30-8:00 Tue/Wed/Thur and 1:30-2:45 Sat and 11:00-12:30 Sun
Youth: Kinsmen 6:30-8:30 Tue/Wed and 6:30-8:00 Thur and 1:30-2:45 Sat and 11:00-1:00 Sun
2 Week Free Trial!
DEVELOPMENTAL FREE TRIAL!
We are pleased to provide a 2 week free trial for under 18 athletes who are new to Water Polo.
Please email DOB of athlete, Program trialling, and contact information for guardian
Registrar will confirm start date of trial period
---
About The Club
JUST ADD WATER!
We provide a postitve, active, environment for childeren to learn the sport of Water Polo.
Programs available from Pup (U8) to Youth (U19).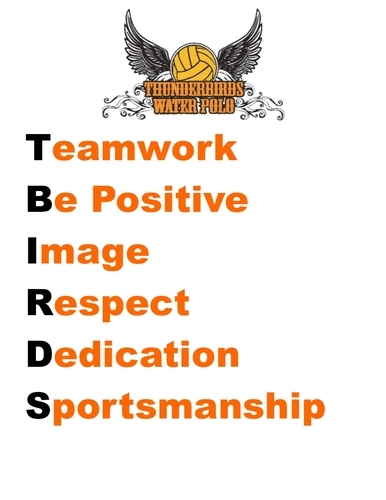 For more info: contactus@tbirdpolo.ca
---
Sponsors

Lines Are In Tournament Clothing
---
---
---
Coaches/Instructors
Gavin Schadek and Abigail Carrier